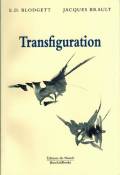 Jacques Brault, Transfiguration, Ottawa, Buschekbooks / Saint-Hippolyte, Éditions du Noroît, 1998, 85 p.
« au vent d'été les soleils
traqués d'est en ouest
confient leur semence

les jardins sous la sécheresse
brûlent avec l'alouette
perchée sur son extase.

*
under the summer wind suns
harried from west to east
bestow their seed

gardens in drought
burns as the lark burns
high upon its ecstasy »

Il s'agit de textes en anglais et en français. Poèmes en français de Jacques Brault, traduits par E.D. Blodgett et poèmes en anglais de E.D. Blodgett, traduits par Jacques Brault.
MARROUCHI, Mustapha, « Possibles: Of Blodgett/Brault », Mosaic: A Journal for the Interdisciplinary Study of Literature, vol. 46, n° 2 (juin 2013), p. 1-18. +++ Article de revue
LECLERC, Catherine, « Bilinguisme officiel et traduction au Canada : les interprétations littéraires de Patrice Desbiens et de Jacques Brault / E. D. Blodgett », Meta : journal des traducteurs / Meta: Translators' Journal, vol. 59, n° 3 (décembre 2014), p. 494-516. +++ Article de revue
### Résumé
Transfiguration de Jacques Brault et E. D. Blodgett (1998), et L'homme invisible/The Invisible Man (1981) de Patrice Desbiens se situent à la croisée des langues officielles canadiennes. L'un est un échange entre un poète québécois et un poète albertain ; l'autre, le récit de l'expérience entre les langues d'un protagoniste franco-ontarien. Ces textes poétiques empruntent – mais pour les détourner – les codes de l'édition bilingue. Ils ont tous deux été lus comme des parodies du bilinguisme symétrique promu par la Loi sur les langues officielles du Canada. Le présent article veut rendre compte de leur relation, à la fois idéologique et formelle, avec le bilinguisme officiel et avec les pratiques traductionnelles qui lui sont associées. Il s'intéresse autant au cadre commun que le bilinguisme officiel leur procure qu'aux manières, divergentes, dont il s'en démarque. En ce sens, il propose un comparatisme portant non seulement sur les imaginaires respectifs de l'anglais et du français au Canada et sur leurs zones de contact, mais surtout sur les enjeux des différents types de rapports à la traduction émanant de telles zones. D'une tension entre deux espaces sociolinguistiques à la fois séparés et en interaction, il invite à déplacer le regard vers l'hétérogénéité de leurs lieux de rencontre les plus intenses.

Abstract
Transfiguration by Jacques Brault and E. D. Blodgett (1998), and L'homme invisible/The Invisible Man by Patrice Desbiens (1981) are located at the crossroad of Canada's official languages. The first is an exchange between a Québécois and an Albertan poet; the second narrates the bilingual experience of a Franco-Ontarian protagonist. Both of these texts have been commented upon for their parodies of the symmetrical bilingualism promoted by Canada's Official Languages Act. This article describes their ideological and formal relationships with official bilingualism and with the translation practices associated with it. It focuses on the common framework official bilingualism grants them and on the various strategies explored by the authors to subvert this framework. The texts studied show two very different reactions that put translation to work in contrasting ways. As a result, this article's conclusion calls for a comparatism that, instead of limiting its exploration to the differences between English and French or even their contact zone, concentrates on the different relationships with translation emanating from that very zone. In the narrow interstice between English and French lies a world as heterogeneous as the two sociolinguitic spaces it both joins and opposes.

Leclerc, 2014, HTML ###
SHERRY, Simon, « The Paris Arcades, the Ponte Vecchio and the Comma of Translation », Meta : journal des traducteurs / Meta: Translators' Journal, vol. 45, n° 1 (2000), p. 73-79. +++ Article de revue
### Résumé
Cet article soutient que la traduction littéraire canadienne donne de l'ampleur à ses mandats culturels et esthétiques. Lorsque, dans les années 1970, Philip Stratford nommait les traductions de la littérature québécoise des « nouvelles du front », il faisait référence au rôle journalistique des traducteurs.

Abstract
This article argues that Canadian literary translation is enlarging its cultural and esthetic mandates. When Philip Stratford in the 1970s called translations of Quebec literature 'news from the front,' he was referring to the journalistic role played by translators in transmitting Quebec literary news. Rather than acting exclusively as mediators, writer/ translators are now increasingly involved in creating hybrid literary texts informed by a double culture. The novels of Gail Scott, the 'renga' of Jacques Brault and E.D. Blodgett are examples of such texts. They use languages to cross traditions, making their texts a crossroads of sensibilities.

Sherry, 2000, PDF ###