Élégies pour quelques-uns (élégies I)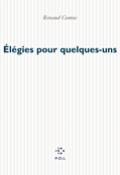 Renaud Camus, Élégies pour quelques-uns, Paris, P.O.L., 1988, 128 p.
« Les neuf textes qui composent ce petit livre ont été rédigés sur presque une dizaine d'années, à des moments perdus, pourrait-on dire, du moins pour les premiers. Le vide, le regret, le silence et le temps qui passe ont eu tout loisir, dès lors, de s'immiscer entre eux, parmi leurs paragraphes, dans la matière même de leurs phrases, peut-être, et la couleur de leurs mots ; c'est au point que ces proses ne trouvent leur résolution, sur le tard, qu'autour de ce thème, l'absence, dont on dirait qu'elles s'efforcent de constituer, distraitement, une sorte de bref traité, mélancolique, ardent et souriant.
Les Élégies pour quelques-uns sont le livre compagnon de Tricks sa contre-épreuve, si l'on veut : mince puisque Tricks est épais, discursif puisqu'il ne commente pas, lyrique puisqu'il est impassible, sentimental puisqu'il ne parle que des corps et des gestes. »
(Quatrième de couverture)
Documentation critique
POPPLEWELL, Daniel J., « Gaiety at a Time of Mourning: Reading Bathmology in Renaud Camus' Tricks (1988) and Élégies pour quelques-uns (1988) », dans « French AIDS writing and the culture of redemption: A study of the literary response to the HIV/AIDS epidemic in France », thèse de doctorat, Columbia University, 2004, p. 70-99. +++ Thèse de doctorat / mémoire de maîtrise
### Abstract
This dissertation examines literary responses to the HIV/AIDS epidemic in France from 1985 to the present. After a survey of the history of the epidemic and the general literary response to it in France, it discusses AIDS writing as a distinct period in the evolution of representations of gay men in French literature. It focuses specifically on autobiographical work by Renaud Camus, Hervé Guibert, Pascal de Duve, René de Ceccatty, and Guillaume Dustan. It firstly inquires into what is specifically literary about their responses to the epidemic. It further considers the aesthetic and ethical relationship between AIDS writing and the long-standing autobiographical tradition of confession. The assumption that AIDS writing has a therapeutic function and that its value is to be found in a redemptive raison d'être is drawn into question. This involves broadening the scope of Leo Bersani's term the culture of redemption. This study claims that a redemptive reading of AIDS writing is largely based in a condescending and negative vision of gay men. Furthermore, this reading distracts the reader from appreciating the reality of the experience of illness and devalues AIDS writing as a literary phenomenon. It fails to understand that many AIDS writers strongly identify with the process of writing as their primary mode of existence and that AIDS writing is often less a penance or cathartic purgation and more a combative and affirming means of self-expression.
La version PDF de la thèse est disponible pour les membres de communautés universitaires qui ont un abonnement institutionnel auprès de UMI - Proquest ###
Élégies pour quelques-uns (élégies I) (

oeuvre

)

Titre

Élégies pour quelques-uns (élégies I)

Auteur

Renaud Camus

Parution

1987

Tri

Élégies pour quelques-uns (élégies I)

Afficher

oui